Automotive Key and Transponder Services
Specializing in Transponder Technology
Every year, Mike's Lock & eKeys 4 Cars faces new challenges. Over the past several years, the automotive industry has created a high security car key that makes it almost impossible for car theft and very difficult to duplicate. We have invested in the most high tech equipment to be able to duplicate and program sidewinder keys, also known as a laser-cut key.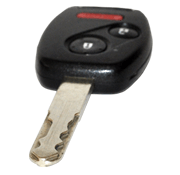 Mike explains how important it is to educate the customer on their automotive keys. "Most people don't realize that the one vehicle key they're carrying around may cost anywhere from $60 to over $200 to duplicate.
When people lose their only vehicle key, they may not be prepared for the cost of replacement. It is always smart to have a spare."
We have the training and the equipment!
Mike's Lock & eKeys 4 Cars can duplicate most car keys, from the plain mechanical all the way to 'Smart Keys'. We carry a huge array of keys for different makes and models, as well as conventional, transponder, high-security, switch-blade and remote-headed keys. In fact, we carry more types of keys than any one dealership.